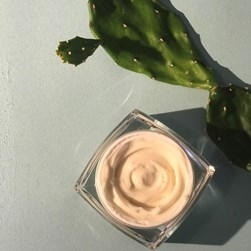 2020 is already making noises about the use of Barbary Fig (also known as "Prickly Pear) oil in beauty treatments.
With extraordinarily high levels of vitamin E, antioxidants & fatty acids it has been hailed as the new wonder ingredient in skincare. Barbary Fig oil is present in the entire Barbary Fig Miracle range and it takes 2205 pounds (1000 kilos) of Barbary Fig fruit to create 1 litre of Barbary Fig oil, making it one of the world's most expensive ingredients.
It has a higher concentration of vitamin E than Argan oil.
Barbary Fig is found in the arid conditions of North Africa. Adapting to its environment the Fig has become an expert at maintaining its own cell hydration levels. The organic essential oil is extracted from the Barbary Fig plant by using cold compress to ensure its purity and effectiveness.
Our complete Barbary Fig Miracle anti-ageing skincare collection is scientifically formulated and organically powered. Developed over 2 years with an expert group of cosmetic chemists, scientists, herbalists, and aroma therapist, the Barbary Fig Miracle range is the latest and most advanced organic skincare regime.
Delivering visible results using Eco Cert cold pressed organic Barbary Fig Oil to ensure the most pure and potent and active products – harnessing the power of plant stem cells helping to protect the skin and encouraging cell renewal.
Browse the multi-award winning Barbary Fig Miracle skincare collection here.