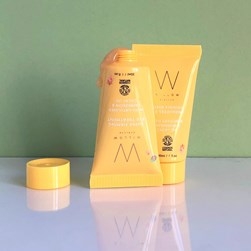 We get asked a lot - what does an eye serum actually do? And how do you use one?
Eye serums are designed to hydrate the eye area and by doing so brighten the complexion and banish dark circles. The skin around your eyes is very thin and therefore can lose moisture quickly. In addition, if you choose an eye serum with an age solution ingredient it should help firm the area, smoothing out lines and wrinkles.
Our Super Firming Eye Treatment contains amma-linolenic acid (GLA) which is found in Evening Primrose oil and known to have a multitude of skin benefits including smoothing wrinkles; whilst Cacay oil (sustainably sourced) is one of the Amazon's best-kept secrets with high percentages of naturally occurring Vitamin E and Retinol making it a perfect moisturiser and age-preventative treatment. Reducing wrinkles and replenishing depleted skin cells.
And to top it all off, it includes our signature age-preventative ingredient, Gatuline Expression.
No wonder it won Targeted Eye Product of 2020 in the Beauty Shortlist Awards!
Directions for use:
Just pat 3 small dots above and below the eye and then gentle wipe across from the inside to outside. Therapists at SenSpa have seen smile lines on their clients disappear in under 20 minutes!

Shop our Super Firming Eye Serum here