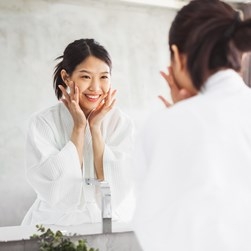 It's a time when are all learning how to do things in a different way – work from home, learn to occupy ourselves with home-based tasks, survive a house that feels constantly full, and learn how to make time for ourselves even amongst all the madness.
So, we thought we would help you do one of our favourite things – an at home facial.
Facials are often something that we treat ourselves to at our local spa or salon but in the times of corona that is simply not possible. So, what are the key steps to giving yourself the perfect at home facial? Here's the simple 5 point plan:
1. Firstly, you need to think about how you want to do this. Would you prefer to be relaxing in the bath or lying on your bed? If you are not already submerged then you will need a bowl or two of tepid water at hand. In addition, you will need to have a headband to hold back your hair. You will also need 2 muslin cloths or flannels.
2. Next your products. The minimum you will need is the following: a cleanser; a mask; an eye serum, a moisturiser. If you would like to do a more professional-style facial you will also need a toner; a facial serum; and a lip balm.
3. Prep before the facial. Its preferable that you've removed all of your make up before you begin. If you haven't you can just do what is known as a double cleanse which is exactly what it sounds like – the first cleanse removes your make up and the second really works straight into clean skin. Once you have yourself set up in your location of choice with your water, cloths, products and hair tied up with a headband then you can begin.
4. The facial.
Start by using your cleansing wash or cleansing balm and apply to your face using slow circular, upward motions. Ensure that you pay attention to your neck, collarbone area, in the creases around your nose and above your lip. Avoid your eyebrows and be gentle around the eyes. The circular and upward motions help to alleviate any puffiness and reduce water retention.
Remove your cleanser with tepid water and a cloth, using gentle strokes and avoiding scrubbing motions.
If you have a toner you can now apply this to the skin. The toner will help to remove any fine impurities still on the skins surface.
Next, apply your face mask with gentle circular, upwards motion to the face and neck. Again avoid your eyebrows and hairline. Face masks work better the longer they are left on – we recommend that at the very minimum you should leave your mask on for 10 minutes and anywhere up to 20 minutes. This allows the mask to penetrate deep into the skin, delivering nutrients and helping to draw out impurities. This is a great time to listen to a podcast or read a book.
After the time is up remove your mask with tepid water and a cloth, using gentle strokes and avoiding scrubbing motions.
If you have a toner and facial serum you can now apply this to the skin. Start with the toner will help to remove any traces of the mask and at this point will also help to reduce the refine the appearance of pores. Then lightly apply the facial serum to the face and neck avoiding the area immediately around the eyes.
Next, apply your moisturiser again using circular and upwards motions on your face and neck gently massaging your face as it drinks in all the hydration from your moisturiser. If you prefer a facial oil you can use this instead of a balm or lotion. Avoid the area immediately around the eyes.
The final part of your prefect at home facial is your eyes. Take your eye serum and dab 3 spots under your eye, one at the side and then 3 above the eye. Then gentle sweep your finger across the eyelid from the centre outwards and from beneath the eye in the same way. Keep your eyes closed for a minute for the serum to absorb evenly. If you have a lip balm you can also apply this now.
5. Afterwards. Try not to apply anything to your skin for a few hours after your facial. 12 hours is preferable so some people prefer to do their facial in the afternoon or evenings. Your skin should look and feel great after your facial but there is always the possibility that a day or two later you may notice a few blemishes come through – this is due to the deep cleanse that you have just given your skin and the final purge of any impurities. Carry on as normal and use a gentle wash or cleanser and remember to moisturise.
And that's it! Your perfect at home facial.
Want to have a Zoom/Houseparty facial party with friends?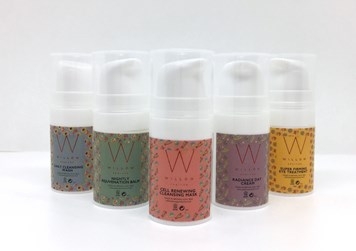 Try out our Sorbet Glow sample pack – enough product for one facial per person. Your facial at home for just £14.90 (including p&p). Shop here