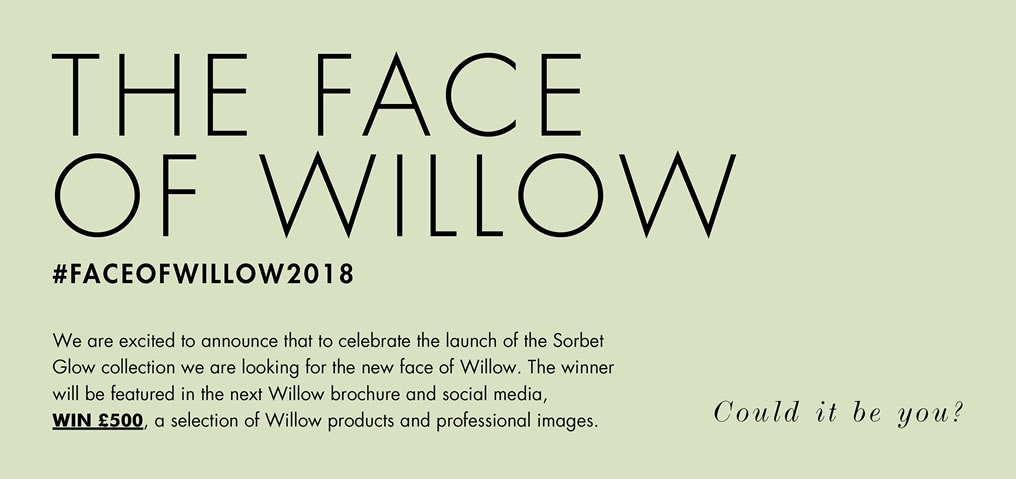 Be the next "Face of Willow" for 2018. We are excited to announce that to celebrate the launch of the Sorbet Glow collection we are looking for the new face of Willow.
Entry closes on Saturday July 31st
The winner will be announced on Tuesday August 4th
The winner will feature in our autumn brochure
The winner will receive:
A full set of professional photographs
A gift of the complete new Willow Sorbet range
All travel expenses (within the UK) paid to Photo Shoot
Plus £500
Entrants must be over 18 years of age
You must agree to come to Lymington, Hampshire for a full days photo shoot on Tuesday 14th August 8 am to 5 pm. If required, we can accommodate the winner in a local hotel the previous night.
To be in the running you must:
1. like willoworganic on Instagram,
2. post a headshot of yourself using the hashtag #FACEOFWILLOW2018
3. Fill in your details below
Good Luck!
Willow reserves the right to withdraw the competition at any time.
To enter please fill in your details below.