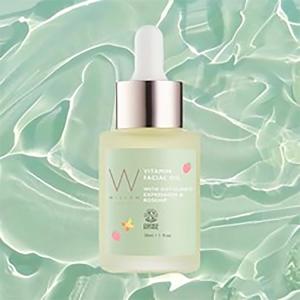 The Face Oil myth
Traditional skincare routines tell us that we all fit within a certain group; those with dry skin, oily skin or combination skin.
What this has done is make us believe that you only use oils for dry skin, only use astringent ingredients for oily skin etc. However, it is very unusual for anyone to have a singular skin type. The condition of our skin often fluctuates with monthly cycles, environmental factors, the weather (yep), and age.
Therefore, it is important to assess your complexion and provide the nutrients and conditioning that it needs at the time. For example, at a time when your skin isn't producing enough sebum - causing it to appear dry and for wrinkles and fine lines to appear more severe – a face oil is a fantastic solution.
Combining products together can also help to solve evolving needs – adding a face oil to your moisturiser on a day when your skin feels slightly dry but not in need of an overnight saturation gives it an extra hydrating boost.
One thing we would never suggest at Willow is to use anything that is drying to your skin, it can have the opposite of the desired effect. Should you have an oily skin day/week, stripping it of any natural oils can actually increase sebum production. Use a lightly moisturising face wash, and every now and then treat it to a vitamin-packed face oil, the introduction of oil will feed the skin and can actually help to stem sebum production as the skin recognises the extra oil you've added.
The end objective for us all it to have healthy skin that is balanced but, like ourselves, our skin has evolving needs and very rarely fits nicely into a box. Stick to your skincare routine but add and remove products as necessary, boost moisturisers with oils, and always remember to exfoliate!
WANT TO ADD A FACE OIL TO YOUR SKINCARE ROUTINE?
Our Vitamin Facial Oil won Best Face Oil in the Beauty Shortlist Awards and is completely natural.Delivering an injection of nutrients and vitamins, and incredible anti-aging ingredients straight to your skin leaving you looking youthful.